Afternoon Tea - NN92
Aloe Vera - NC73
Amber - BO23
Antique Blue - SC73
Apple Green - K84
Aubergine - 92
Bayleaf - 62
Bisquit - NC12
Blossom - K41
Blue Grey - 81
Buff - NC05
Calico - NN11
Cameo - P51
Camouflage - K85
Canvas - NN22
Cape Cod Grey - NN17
Cassis - K64
Celadon - P62
Chalk - 41
Chalk White - S00
Chocolate - NN07
Clay - 32
Clotted Cream - NN19
Cottage Green - NN53
Cotton White - SC01
Country Diary - P18
Dawn - 71
Denim - SC83
Dining Room Red - 95
Drab - BO59
Driftwood - S12
Dune - 03
Dutch Grey - 98
Earl Grey - S13
Ebony - SC08
Eucalyptus - 72
Flowerpot - S94
French Linen - SC06
Gooseberry - 52
Graphite - S99
Green Tea - NN52
Greige - P19
Grime - NN13
Hampton Grey - NN99
Heather - 90
Hippy - BO91
Historical White - 00
Humus - BO21
Ice Blue - K71
Iced Coffee - NN20
Indigo - BO85
Ink - NC89
Khaki - SC07
Lavender - K72
Lily - SC93
Lime Tree - K21
Lime White - NN51
Linen - 21
Loft - NN18
Lovely Lilac - K63
Marigold - NC06
Maroon - NC91
Marshmellow - K31
Matcha - BO56
Mauve - 43
Mint - SC71
Mist - S11
Mocha - NN06
Monument Grey - NN02
Morning Tea - P16
Moss - 53
Mouse - 42
Mud - 23
Muslin - NN21
Mustard - S09
New England - ME73
New White - NW01
Nude - BO22
Nutmeg - NC96
Ocean - K74
Old White - NN01
Olive - S66
Oyster - 89
Paper - NN10
Peacock - NC74
Pearl Grey - NN16
Pebble - 22
Pepper - 102
Persian Grey - 99
Petrol - 73
Pewter - 103
Plaster - NC97
Porcelain - P82
Powder Blush - K40
Pure White - NN00
Putty - NN12
Raspberry - B94
Raw Umber - NC79
Red Clay - NC93
Regency White - 01
Rose White - NN91
Rosewood - 97
Rusty - BO97
Sage - P61
Salix - S64
Salt - 60
Sand - 04
Sandy Beach - K21
Sapphire - SC72
Scandinavian Green - 61
Sisal - BO11
Slate - 101
Soft Black - NN14
Soft Linen - 20
Soft Sand - BO10
Something Borrowed - P14
Something New - P13
Something Old - P12
Steel - 82
Stone - 31
Sugar - 30
Swedish Blue - P81
Sweetheart - K32
Sweetly Blue - K51
Taupe - 33
Truffle - NN15
Turquoise - K52
Urban Black - BO14
Velvet Plum - SC94
Verdigris - S65
Wheat - 02

Deze lak is bijzonder geschikt in het interieur voor hout, mdf, muren en radiators. De Matt houtverf is net zo mat als de muurverf, heeft een zijdezachte uitstraling en kan eventueel afgewerkt en beschermd worden met de Paste Was van Painting the Past. Na het schilderen met een kwast kunnen de kwaststreken lichtjes zichtbaar blijven, wat het uiterlijk van de krijtverf versterkt.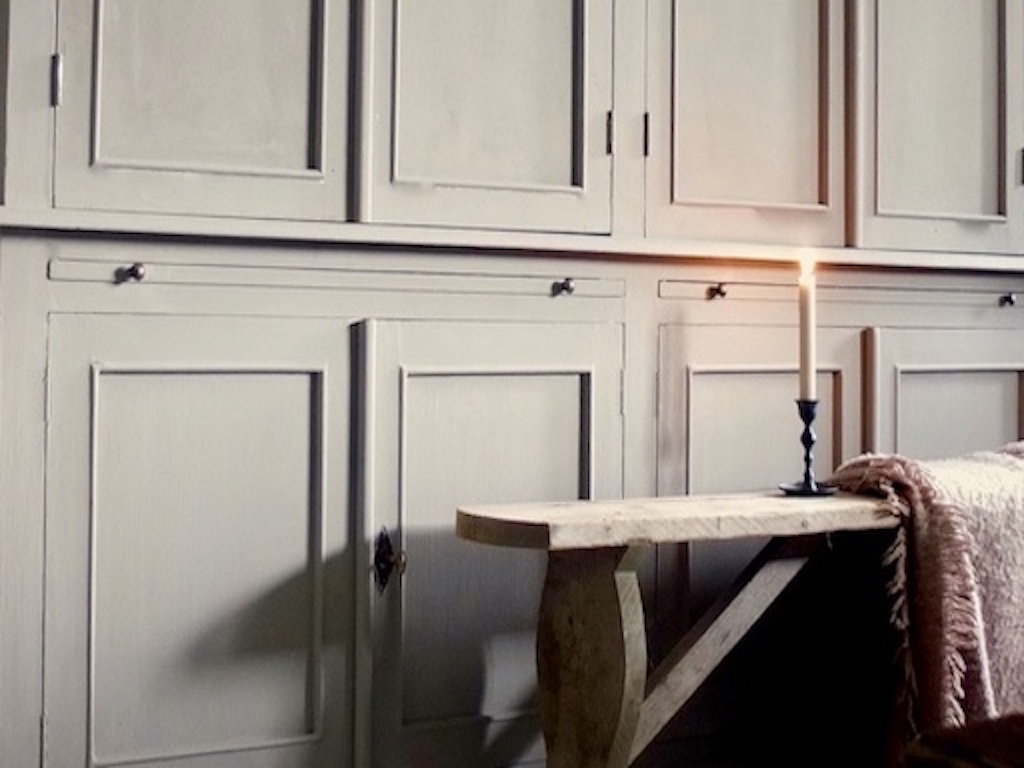 Kast geverfd in de kleur Kakhi van Painting the Past
Instructie:
Het oppervlak dient vrij te zijn van olie-, was- en stofresten. Het is verstandig de ondergrond op te schuren en daarna goed schoon te maken. Een grondverf is niet nodig. De verf dient in 2 a 3 lagen te worden aangebracht. Indien de oppervlaktes sterk zuigen adviseren we de 1e laag aan te brengen verdund met 30% water. Radiatoren moeten koud geschilderd worden. De verf is zeer geschikt voor kindermeubels.